MEET NEIL & ELVIS
 The Founders of Photooneil, Neil & Elvis, bring contemporary photography with a touch of romance, a taste of elegance, and an authentic wedding story to life. It is where world-class photography meets exemplary storytelling. Over 200 couples have had us tell their stories- what is yours?
WHO WE ARE
Hello!
Neil and Elvis here- connected by blood (cousins), driven by our passion for photography- especially wedding photography. Our love for weddings coupled with our expertise in photography is what drove us to start Photoneil over 15 years ago. We do reportage wedding photography, documentary wedding photography, and photojournalism.
OUR GOAL : EMOTIVE, ELEGANT AND CREATIVE 
We believe that photography is an art, and you entrusting us with your masterpiece means that we deliver nothing but finesse!
We think outside the box (or get rid of the box altogether), break photographic boundaries if we have to- whatever helps to tell your story in the most eloquent way possible, and communicates to the hearts of those who get a glimpse of our final art- because we owe that to you.
PHOTOONEIL PHOTOGRAPHY
Photooneil offers great wedding photography for couples in Goa or Abu Dhabi. We strive for excellence and to satisfy our customers through timeless photograp
ABOUT NEIL
Husband / Father / Brother/Architect/Project Manager/Artist /Owns Photooneil Architects, Designers, Interiors /Loves sketching and creating concepts /Loves Goa /Loves Travel
ABOUT ELVIS
Son / Brother/ Sous Chef / Entrepreneur / Loves fishing
We are deeply and truly bound by the passion  for Photography.
SO WHY US…WHAT MAKES US DIFFERENT
Over the span of 15 years, over 200 couples have chosen us to tell their unique love story and now we would be honoured for the opportunity to tell yours. Here are the reasons that couples in the past have entrusting us with their all important day.
* We have separate teams for the bride and groom prep.
* We deliver processed photographs within 4 weeks from the date of your wedding. Sometimes much earlier.
* Acclaimed International Wedding Photographers. Shot weddings in India, UAE, North America and Europe.
* We do not take more that one wedding assignment on a given day. We put in all our resources to make your wedding special.
* We ensure that your family and friends become part of your memories.
OUR GOAL
Our goal is to make your's a dream wedding. We want our photographs to make you fall in love with each other all over again.
With Vita, the force that works behind the scenes
Blast from the past – Nyra, Vita, Neaa & Neil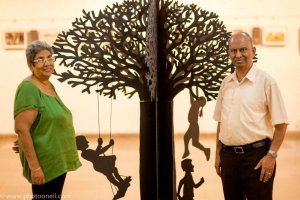 Mum and Dad at the Faces and Places exhibition, Goa edition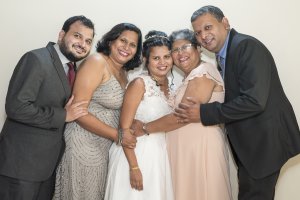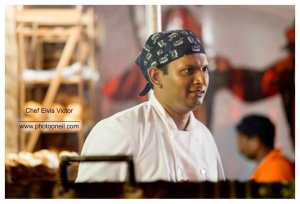 Elvis, the Sous Chef can turn anything edible tasty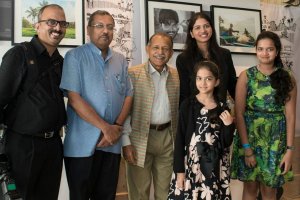 With the Indian Ambassador at the Faces and Places exhibition, Abu Dhabi edition